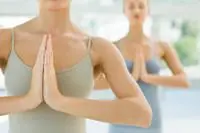 WHY YOGA FOR GRIEF AND ADAPTING TO LIFE'S LOSSES?
(FROM MY BLOGPOST, SEPTEMBER 12, 2012)

I traveled to Lancaster, PA. this past week to teach a group of hospice bereavement professionals about yoga and why it is a unique doorway into processing loss and supporting people navigating life's transitions.

I talked about why yoga, and not e.g., basketball or ice hockey, which by their nature imply competition, scorekeeping, penalties for breaking the rules, and an end of the game. There's an absence of these in yoga and any of these applied to grief have the potential to be quite harmful.

I talked about how yoga is special. When we step onto our yoga mat, yoga meets us exactly where we are: body, breath, mind & heart. And when we are grieving, where we "are," varies and cycles from day to day (often more frequently); and so we come with a beginner's mind to our yoga practice, deepening our self-awareness and leaning into the edges of our experience - wherever they may be in that moment.

Below are a few of the thoughts that came to my mind as I prepared to teach this past week. maybe they will be of help to you.....
We grieve as whole people – it makes sense to offer holistic approaches to support a holistic experience That's one of the reasons for why Yoga and not "ice hockey for grief"

A Hatha Yoga practice touches on every aspect of how we grieve: emotionally, cognitively, behaviorally, physically, socially and spiritually

In Hospice, we talk a lot about Self-care for the bereaved. The practice of Yoga is multi-faceted, multi-layered Self-care, as it promotes personal mental & physical health
1. Builds endurance, strength and physical and metal flexibility
2. Helps balance, results in a feeling of being centered and that the mind is calm
3. Yoga and its meditative quality is the antidote to a fight, flight, freeze response that inhibits optimal functioning
4. Reduces stress by promoting a relaxation response, therefore, contributing to improvements in sleep, breathing, mental clarity, and decision-making capacity, as well as reduced muscles tension and fatigue and other physical symptoms of stress
5. Cultivates self-awareness and focused concentration – teaches skills to change pattern of rumination
6. A Yoga practice creates a special place to explore individual potential, possibility, vision & purpose
7. Builds skillfulness & confidence
8. Teaches skills that assist and support adapting to loss and that can be transferred from time on the mat to life off the mat
9. Builds a relationship with self that becomes foundational for building healthier relationships in other areas of life; also classes have a social aspect that can be reassuring and comforting
10. The Yoga mat is a place of rest in the middle of stressful, unpredictable, tumultuous change, and can be a reprieve from grief
11. Promotes greater authenticity, there's no pretending on the yoga mat
12. Promotes self-acceptance – there's no competition, score board or finish line
13. Teaches that grief, like yoga, is about the journey, not the destination
14. It encourages the beginner's mind and a "curiosity" every time you step on the mat – a helpful concept to apply to grief's uncharted territory
15. Results in an improved sense of well-being and autonomy
16. And Yoga is accessible to most people